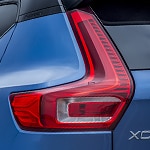 Most of the time, it's pretty difficult to wax poetic about a car's exterior. Exteriors, however, are what hold a lot of a car's personality in their design - a clumsy exterior, or a poorly designed exterior can severely damage the reputation of an otherwise well-made vehicle. That's why we wanted to highlight a vehicle that has an excellent exterior with some impressive features: a subcompact SUV going by the name of the Volvo XC40.
The XC40 comes with personality on-deck, with features like duel-integrated tailpipes that come standard. These will spark interest and curiosity in your vehicle, as they look distinctive and interesting. For more function-based features, check out this SUV's rain sensor, which will turn on your wipers at an appropriate speed when rain is detected on your windshield. How's that for practical?
If you want to see these exterior features firsthand, then you should test drive the XC40 here at Goodwin's Volvo!